To get an idea of how dire the situation is in hurricane-battered Puerto Rico, take a look at these before-and-after photos.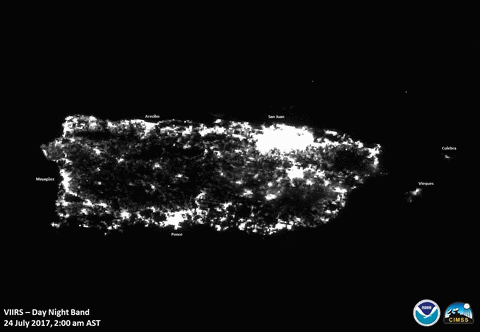 The images, from a National Oceanic and Atmospheric Administration satellite, offer aerial views of the island. One was taken on July 24. The other on Monday.
The difference is stark.
Normally the island's coastal towns and cities glimmer in a ring of light. Not anymore.
Puerto Rico's energy grid took such a severe blow from deadly Hurricane Maria that the entire system is down. That means more than 3 million American citizens on the US commonwealth are without electricity.
Restoring power to the island could take months, Gov. Ricardo Rossello says.
"Damage is catastrophic," Ricardo Ramos, CEO of the Puerto Rico Electric Power Authority told CNN. "Transmission lines on the ground and conductors on the ground, and distribution poles broken in half. [It's] very, very disconcerting."