Gallery: Share your back to school and virtual setup photos with us!
Back to school doesn't look the same this year. Most students are heading back virtually due to the COVID-19 pandemic and some are heading back to the building with new regulations and face covering requirements. We want to see what back to school looks like for you this year. Email your photos to pics@wtkr.com and you may even see them on television!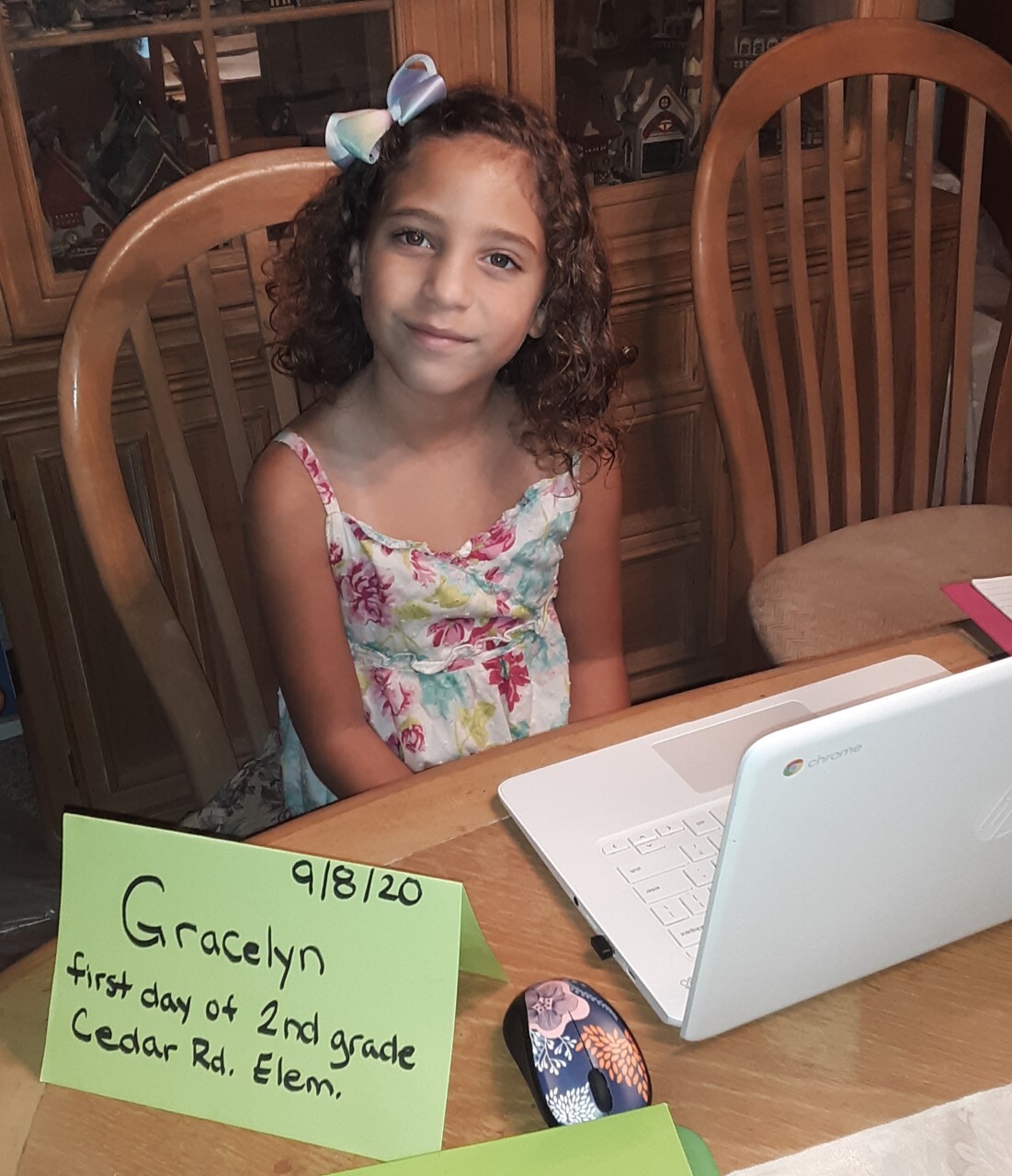 Gracelyn Burns
Cedar Road Elementary
2nd Grade
Gemma Jucksch
Oakland Elementary in Suffolk
1st grade
"My 11th grade photo from 2002. I was such a good looking kid. What happened?!"

- Sean from your buddies at FM99

Nate Varnier
Freshman at William Peace University
Kai's first day of school
Lyllah 3rd grade & Isabella 5th grade. Tallwood elementary.
Lily robinson hermitage ele. Va beach 5th grader excited to see some friends even if online
First day of 10th grade for John
Abirah Heart Keys
First day senior year for Emily
Terrell Trevell and Talaysia
Anna Lee ( Hunter B Andrews) Kindergarten
Riley Mares - 6th grade at Spratley Gifted Center in Hampton, VA
Olivia, 2nd grade, Natalie, 1st grade.
Michael Thompson- 6th grader at Great Neck Middle School in Virginia Beach
Taylor Thompson- Senior at Frank W. Cox High School in Virginia Beach
Churchland High School Freeman and 5th Grade!
Ulijah Greene 6th Grader.
Gabriel in Norfolk's first day of 6th grade at home!
Dennis 9y.o, 4th grade Pioneer Elementary School
Dashani's back to school
Payton 4th grade, Harley 5th grade and Harper-all ready to learn!
Chelsea, 15, 10th grade... Lakeland High School - Suffolk
Ryleigh Rayner's first day of 1st Grade (Virtually) Georgetown
Justin Wilson Western Branch Freshman
D'Nhyla
Honesty Gilliam Luxford Elementary, VA Beach
Zoey Church, 1st grade at Parkway Elementary School
Diviné Worthy, Diamond Springs Elementary
Tanyia, Freshman at Norfolk State University
Sofia Viar, 9th Grade at Ocean Lakes High School
India Lewis, Diamond Springs Elementary
Bella, Mile Hile Academy
Kendall Spence 8th grader at Hugo Owens Middle School
Nikole, 6th grade at Princess Anne Middle School
Nadia Bond, 2nd grade at Hillpoint Elementar
Royce Dennison - 2nd Grade at Deep Creek Central Elementary
Jycen, Pre-K
Zoë, 4th grade
Wilson's first day of school
William Thompson, Salem High School, 10th grade
Venaayah Carter, First Day of 9th Grade
Tyra, 9th grade
Ricky Lagos, Yorktown Middle and Carlos Lagos, Yorktown High
Paul Wallace, Jr., Churchland Middle School, 7th Grade
Nikole, 6th grade, Princess Anne Middle School
Maya Lagos, Yorktown Elementary
Mason and Maleeya, John Tyler Elementary
Makayla, 2nd grade, Poquoson Primary
Lynnhaven Middle 8th grade
Desiree Dine
Derek Adamson, 2nd grade Parkview Elementary
Christopher Woodard III, Camelot Elementary